FINK+Co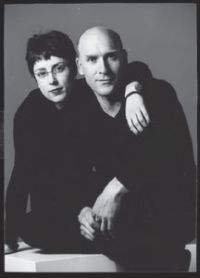 FINK+Co Designs has built a distinctive brand of products that are easily recognizable despite the breadth of the range and diversity of contributing designers; the foundation of which is Robert Foster's iconic water jug. This is no small feat considering the unique persona of each product. It is in fact the quirkiness, derived from stunning visual qualities, brave use of color and a novel combination of elements that unifies the collection. The team's vision is to create innovative products which challenge their utilitarian counterparts.
FINK+Co's maxim - "integrity towards industry" - translates to the consumer as a cutting edge design. Behind the scenes, the research and development process typically stretches from one to four years before a new product is launched to the public. Most of the manufacturing process occurs in the FINK studio, where there is a continuous focus on experimentation and refining new technologies to improve quality. Every piece is individually hand finished, leaving the impression that it is a work of art with its own unique characteristics.
Since FINK+CO's establishment by Robert Foster in 1993, the company has built a reputation for spirited, high caliber Australian design. The business evolved as a natural progression from Fosterís own highly acclaimed exhibition work. With over nineteen years experience in the arts and design fields, his work is found in permanent collections of most major Australian arts institutions. Sought after by leading hotels, restaurants and wineries, home and abroad, the design team regularly delivers customized products of exceptional quality. In addition to fulfilling commissions for private collectors, FINK also collaborates with organizations seeking to reward their associates with outstanding corporate gifts.
| | |
| --- | --- |
| | Bronwen Riddiford: Since receiving her degree in Gold and Silver smithing from the Australian National University, Bronwen has enjoyed designing across jewelry objects and furniture. Though traditionally trained, she prefers modern industrial materials and manufacturing processes. In particular, featuring aluminum, stainless steel and polypropylene in her work enables her to utilize laser cutting and anodizing to achieve her designs. Her ideas often start out as simple paper templates which translate to sheets of metal or plastic. They are given life and form through folding techniques and manipulations; through her straightforward design process, Bronwen aims to achieve an economy and purity of form. |
| | Sean Booth: Sean achieved a Bachelor of Arts in Gold and Silver smithing from the Australian National University and draws upon his exhibition work as research and development for his production style work. He sees endless possibilities working with metal due to its ability to pair with other materials, the resulting unlimited palette and freedom drive him to create. Elements of architecture, sculpture and nature help to form his aesthetic. Sean's designs tend to explore two different paths silver and traditional hammer work within a contemporary framework, challenging geometry and buildable structures through a sense of fluidity. |
| | Rohan Nicol: Rohan has a potent mix of qualifications which guide him in his multifaceted approach to design undergraduate and graduate degrees in Gold and Silver smithing as well as Education to teach technology and applied sciences. He enjoys working across a variety of craft and design disciplines, principally jewelry, silver smithing and industrial design. Rohan pursues the creation of individual pieces as well as designs meant for limited production. The diversity of his approach inspires and informs him across his work in terms of both technique and aesthetic development. He finds it important to work from a variety of angles where developments in one aspect of his practice are to the ultimate benefit of his work as a whole. |
For more information visit the FINK website
Product Designs