Backing Cloth Homage
Series 1
Spacecraft studio's iconic backing cloth paintings feature artwork richly saturated over time with layers of designs, progressions and trials which capture the studio's stories and creative energies. This new architecturally themed series pays homage to the backing cloth painting by celebrating the randomness of the studio's process and the serendipitous beauty of its inspirations.

There are five different coordinating paintings to choose from within the series. While our original backing cloth paintings are one of a kind, the homage paintings capture their essence and can be repeated time and time again.

Due to the artistic nature and hand production of Spacecraft's operation, still no two paintings are exactly alike. Viewed as strengths, slight variances will occur between production batches, while the artwork style, size, design patterns and color schemes will remain consistent with catalog images.
Five individual paintings are available

One large painting (56 in x 28 in): option A (vertical)
Two medium paintings (28 in x 28 in): options B + C
Two small paintings (28 in x 14 in): options D + E

Each painting has been designed for individual impact, to complement other works in series and be collected over time
Made from water based permanent paint on cotton canvas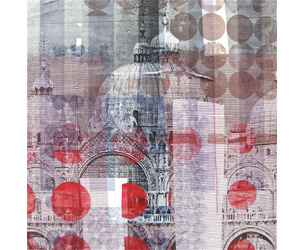 click on thumbnail to view larger image